MELBOURNE–My family should never have to pay for rosemary.
It's a rite that began when living in a hand-me-down rental near the Darling St ferry pier in Sydney's Balmain in 2004.
Outside the local supermarket is a war memorial full of rosemary, the kind that I stood in front of in Waroona, Western Australia, as a boy scout, as a child. Saluting.
The Balmain variety was a huge, hedgy bush that for about $2 you could buy a sprig of, inside the supermarket, Encased in a casket of plastic.
Like the well-healed locals, I didn't buy rosemary from the supermarket.
This once poor Sydney wharf-side community has family like mine.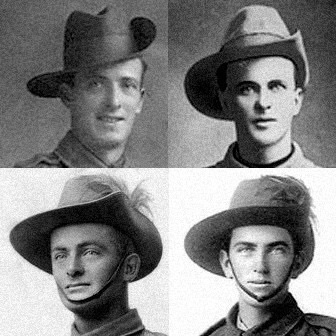 Clockwise from top: Henry, Leo, Sydney and Levi Treasure, sons of John James Treasure of Kojonup, Western Australia.
My great grandfather Henry Esperance Richard Treasure, aged 21 with the 12th Battalion, and his brother Leo Charles Edward Treasure, 16 and a bit years-of-age with the 16th Battalion, waded onto Gallipoli beaches on what is now Anzac Day, March 25, 1915, one hundred years ago today.
Henry was in one of the first waves at dawn.
My great great uncle, John Levi Elworthy Treasure, was in the last big battle at The Nek as a member of the 10th Light Horse, decimated charging Turk machine guns on August 7, 1915.
Less than two years later a third great great uncle, Sydney Roy, enlisted at 16 years of age to be in the Palestinian campaign with the Camel Corp and 2nd Light Horse until 1919.
All Treasures survived.
There were injuries.
Great grandfather Henry was debilitated four times with gun shot wounds to the knee, wrist and forehead at various times over his near 4 years on the frontlines of World War I in Turkey and France.
Great uncle Leo's shoulder was shattered by gunfire sometime between the landing and May 2, 1915 at Gallipoli, when he was evacuated, taking no further part in The Great War.
Levi survived what is called "the climax of Anzac" at The Nek, and with the 10th Light Horse practically gone, was redeployed.
War should never be glorified, and Anzac Day is not a glorification of war, or of patriotism.
Anzac Day is a recognition of those lost, and the families that were lost in war.
My great grandfather Henry Esperance Richard Treasure had four boys.
His son, WWII vet and my grandad, George Treasure, drove a Volkswagon Beetle and taught me how to fish at a special shoal about seven kilometres down the sand on Myalup beach.
His only daughter amongst seven sons, my mother Kim, was in signals in the Royal Australian Air Force in the 1960s. She won't let me call her a codebreaker.
Myself, Henry's great grandson, I'm an ABC journalist. I cover the continuing depravity of war worldwide. Sifting through the unedited images that everyone else should not see.
And Henry Esperance Richard Treasure's great great grandchildren, Bo, 5, and Parker, 3, pick rosemary from their own bush in their own front yard in St Kilda, Melbourne.
They do not pay for their rosemary because the Anzacs have.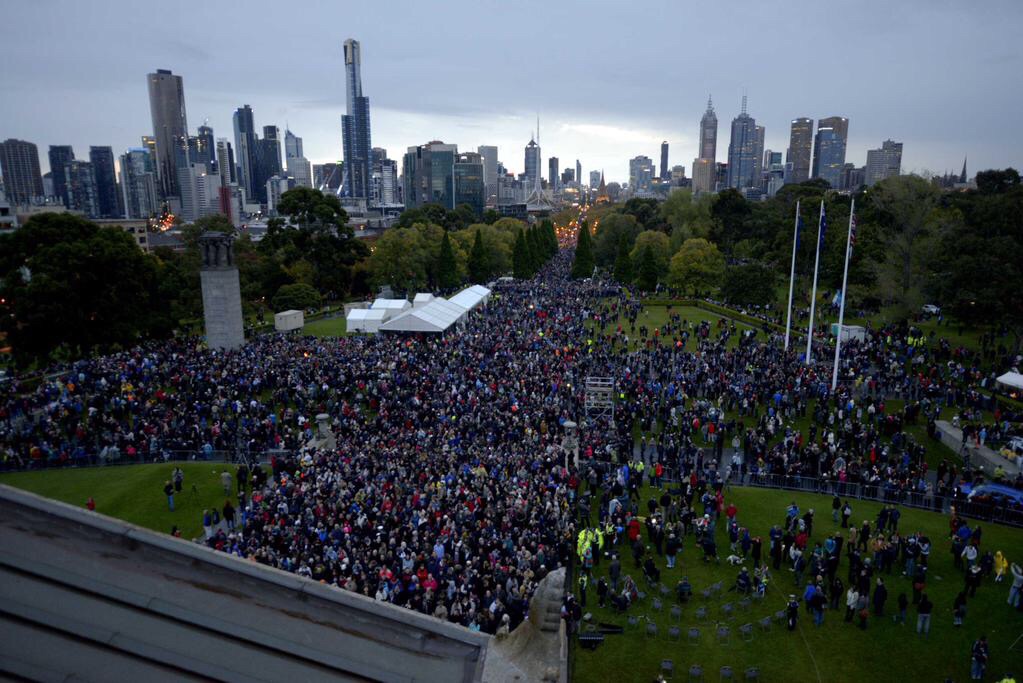 Photo: The author in the crowd at Melbourne's Shrine of Remembrance dawn service on 25 April, 2015, one hundred years to the day of the Gallipoli landings. Credit: ABC Supplied
References
A few links to records of the period. I especially like Henry's records of both getting charged for forging a leave pass, and the detail around attaining the leave for his wedding and transporting his wife, my great grandmother, back to Australia from England. Another tidbit – my mother says Henry has the middle name Esperance because he was the first non-indigenous child born there.
– Henry Treasure's full service record (National Archives of Australia)
– Henry's 12th Battalion on April 25, 1915 (Dept of Veteran's Affairs)
– Leo's 16th Battalion on April 25, 1915 (Dept of Veteran's Affairs)
– Anzac timeline (ABC News)
– Levi's 10th Light Horse on August 6-10, 1915 (Dept of Veteran's Affairs)
– Western Australians in WWI: Treasure (Faithe Jones)
– Great Southern Pioneers: John James Treasure B 1865 Kojonup WA – D 1947 Perth WA (Ted Rastrick)