MELBOURNE–We have a women's cricketer in our midst. My old man cricket buddies on Australia Day were well impressed with 2-and-a-half year old Parker's bowling to Bowie.
MELBOURNE–Today as I 'hacked' into the back end of a website's publishing system as part of my day job as a journalist I suddenly remembered that 'hey, this year marks 20 years of building websites'. Yay me.
So today I begin a series of online flashbacks of the favourite pixels I contributed to the great human endeavour known today as the interwebs through the decades.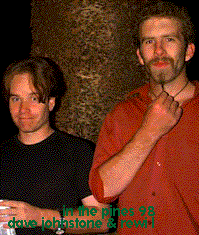 First, a little something from a very early website I built for RTRFM radio in Perth around 1998. This picture, from an 'In the Pines' photo essay from 1998, features Diamond Dave Johnston from Ammonia and Rewi Goat.
It is true that throughout the 90s Rewi never took his fingers off his beard, as captured here in pixel posterity.
See various broken layouts and captures of this early RTRFM site, which these days resides at http://rtrfm.com.au, on Internet Archive.
I'm particularly impressed that the site is still somehow able to suggest that the radio program running at this exact time 16 years ago was 'Absent Without Zahn'. Build to last, like the Black Captain's bulb machine.
Just a few months ago Diamond Dave and our families got together for the AFL Grand Final. And Rewi and I had pizza just before Xmas. Friendships also build to last.
Please note – by 'hacked' I mean I had to find through the hidden directory tree of a news website a higher resolution image of some Korean language script to have it translated to verify a investigative piece I was working on. I did on my second hunch. Easy when you're 20.