When body surfing, stage diving and head banging came to Hong Kong.
BY JEN WEI TING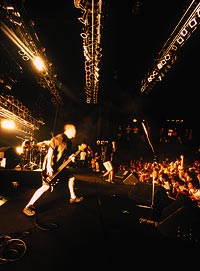 Japanese 'indie' band Brahman perform in Hong Kong. Credit: Tsukasa Miyoshi
Thursday, Feb. 22, 2001 | A concert isn't a "concert" in Hong Kong without prominent billboard appearances gracing the fragrant harbor, round-the-clock television and radio commercials, 20 costume changes, a 50-member entourage and a minimum 30-day run. As for live bands, you can forget about that. The 'indie,' or independent, band scene in Hong Kong is about as alive as an electric guitar without an amplifier.
Weaned on a diet of Canto-pop ballads and sugary pop ditties, many Hong Kongers just aren't accustomed to the bare, unadorned setup and sound of live gigs. Put them in a mosh pit in front of a sparse stage with a live band playing, and chances are they won't know what to do.
But for at least five hours during "Devilock Night" on Feb. 10, things were different. Treated to a feast of live music from six bands — Back Drop Bomb, Brahman, Husking Bee, Master Low (01) and ShakkaZombie from Japan, with local band Charisma — young Hong Kongers loosened up, and gradually joined their Japanese counterparts in the body surfing, stage diving and head banging that characterize such live gigs. As Naohi Matsumoto, a 21-year-old carpenter from Suzuka observed: "It seemed that that kind of 'live' was probably a first, and most of the Hong Kongers were fairly confused at first, but they gradually got used to it and we all went wild together."
Despite the underground promotion — with news of the concert spread mostly by word of mouth — more than 1,000 live music fans showed up in full force to support the gig at BP International House. Although much of the crowd comprised young, punk-styled locals in their 20s, expatriates, curious tourists, and the occasional celebrity like Chang Chen (Zhang Ziyi's paramour in "Crouching Tiger, Hidden Dragon") could also be spotted. About 70 Japanese had bought air tickets and made the trip to see "their" bands on Hong Kong turf. Shorn of elaborate costumes, set changes and dramatic props, the bands radiated pure energy through their music — and the crowd responded in kind.
The night's festivities commenced with Back Drop Bomb and ShakkaZombie, who dished out a mixture of hip-hop and R&B music. Charisma followed with heavy, head-banging metal. But when the lights faded in anticipation of Brahman, it became clear who the star of the night was. In a split second, fans hoisted themselves on one another's shoulders, unfurling "Brahman" scarves and chanting "Buraha" (the band's nickname in Japanese). The coterie of ushers and policemen moved instantly to line the barricades, and rightly so, as up to 30 of them barely held back the stomping crowd.
Watching their live performance, it is clear why fans like Satoe Tosu, a 25- year-old schoolteacher who flew from Chiba with her friends Akiko, Sachiko and Youko, consider Brahman "a class above the rest." For one, there is the sheer energy. You may shrug off the body surfing and stage diving, but you can't ignore Toshi-Low. In the words of diehard Brahman fan Aya Togashi, a 40-year-old secretary from Tokyo, "nobody can imitate Toshi-Low's dynamic action. When he sings, he looks like he's agonizing, suffering."
Clad in Bermuda shorts, a T-shirt and sneakers, Toshi-Low ambled on stage against the muted backdrop; in the semi-darkness the first guitar riffs sounded like an ancient Gujerati tune. Then the band fired up, explosively. And there was no holding back. Toshi-Low executes punches and gravity-defying flying kicks, wields the microphone stand like a spear, and, when in the mood, dives off the stage and into the crowd.
Combining a mix of traditional Japanese and Indian influences with hardcore punk, Brahman produces a distinct sound that critics have sometimes labeled "Krishna-core". Toshi-Low, however, has no regard for such labels. To him, "we don't have a lot of musical knowledge. But we give our all during our performances."
This combination of crowd energy and stage music clearly won over many new fans that night. Hong Kong punk-music fan Nelson Ng, a college student who had heard about the gig from his friends, enthused, "I've never heard Brahman's songs before, but I became a fan. We really need more concerts like this in Hong Kong."
Welcome words indeed to Eddie Tso, owner of streetwear clothing shop Medium Rare, who organized Devilock Night together with Endo Noriaki, the lead vocalist of another indie band, Superhype. Tso cites as his main motivation for organizing the event his wish to introduce live bands to Hong Kong, and hopefully stimulate the flagging and very commercialized music industry along the way.
Taiwanese-based Chang Chen, looking every part the contemporary version of the bandit king he plays in "Crouching Tiger," is also on a mission: "I want these guys to bring the Devilock idea, or at least some Japanese bands, to Taiwan," he says. "Our local music scene is enormous. It's actually so big, it's stale. But the Japanese never come."
So could indie gigs turn into Japan's new wave of cultural exports after the successes of saccharine-sweet bands such as SMAP, Speed and Max? In recent years, Japanese entertainment icons have been stirring waves in Hong Kong. With Luna Sea performing a sellout concert last November, and Sorimachi Takashi scheduled to perform here in a few weeks, Japanophiles in Hong Kong are spoilt for choice. But you've committed the equivalent of a cardinal sin in the indie scene if you've just associated Sorimachi Takashi with the likes of Toshi-Low. Japan's indie bands shun the mass marketing and glossy promotion perpetuated by agencies like Johnny's Jr. (think SMAP, Kinki Kids, Tokio), preferring instead to make their name on the quality of their live performances.
Despite this disdain of commercialism, many of these bands have gained a significant faithful following. Popular bands like Brahman fill more than a hundred gigs on a yearly basis, packing venues to the rafters with boisterous young Japanese. As Noriaki spits out, "F*** money, it's all about the music." Adds Toshi-Low: "During the performance I leave it all to my feelings and sing. When the song is strong I make strong actions, and lonely actions when the song is lonely."
But flying Japanese indie bands to Hong Kong is no simple business. And in Tso's experience, it's a loss-making one. "No one is making a dime here," the lean 32- year-old shrugs. "We're doing it purely for the fans, and for people who love live sounds."
At the very least, in the hearts of the many Japanese and Hong Kong youths who rallied against the barriers and surfed along on a sea of hands during Devilock, such events have helped to dissolve many cultural and language barriers. As Toshiake Takenouchi, a 20-year-old International Relations student at Suzuka International University recounted, "Everybody's smile was absolutely wonderful. I was so touched I cried without realizing it." Hopefully, the small seed that was Devilock will spin off greater wonders. And kick-start the band scene in Hong Kong on the way too.
–With reporting by Adam Connors
Originally in TIME Magazine, online at http://www.time.com/time/asia/arts/daily/0,9754,100211,00.html. Site design also by Adam Connors.
Search for more TIME Magazine articles, reviews and interviews.