Interview with Donna Matthews
When Elastica brushed, nay slapped, the testosterone from the stage at the various Big Day(s) Out this year, they had the Britpopping punters lapping at the railing for any number of reasons.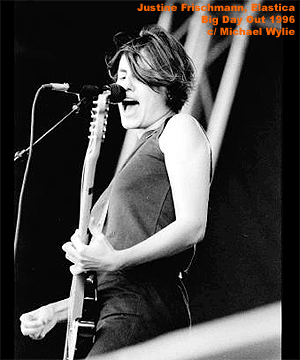 Yes, it could have been that they were the sole representatives in the summer's festivals of the greatest resurgence of English music since the early 80s (apart from Tricky who played some of the east coast); it could have been because xx sleeps with xy; it could have been due to their debut album being one of the coolest releases in the past five years … but I was there to see Justine, Donna, Justin and Abby string together a jumping, staccato set of short, definitively-pop songs which summed up their uncompromising femme desires in two minutes twenty. "hoping there's a method to your madness baby / i might understand if you obey me" … indeed, I am weak.
Guitarist and backing crooner Donna Matthews' mussed blonde hair resembles a savage cut administered by a roadie with a pair of wire-strippers. Speaking to her over breakfast before the Perth Big Day Out there's no glitzy, iconic pretension here. Just as their lyric sheets jump between "keysmoneyandfags" – the prerequitites for a fine night out – and boys having "too much wine to stumble up my street", interview style is as street level as it comes. Breakfast? A bowl of brownish soup, some Marlboro Lights and a good nose-thumbing at the English music press.
"The press in Britain believe they can make a band or break a band, but we haven't done any press in Britain for a year now. They don't want to talk about us again so screw 'em, we don't want to talk to them anyway. We totally believe in ourselves now and know that we don't need that commercial stuff."
Indeed, their self-titled debut album has sold lorry-loads in England and the US, a traditional wasteland for touring British bands. The Australian Big Day Out experience was the end of a tough year where they toured the US four times, played Lollapalooza and lost their bass player, Annie Holland. With a new bassist, Abby Travis, an American who last played in Beck's band, Elastica are collectively, with Oasis, finally breaking into the US market.
Elastica are strong enough, abrupt enough and arrogant enough to pull it off: after all, MTV attention spans are more than suited to their lithe bursts of guitar-based pop. The US scene is no where near as dominated by the music press as the gossipy UK rags – it's usually the live arena and college radio which launches US hopefuls. Truely, Matthews winces at any suggestion of 'feeding the hype machine', something that they really can't steer clear of in all reality.
"The fact that our album sold really well was totally word of mouth for a long time," she says of their rise. "We did no advertising in Britain for the album at all, we're on an independent label [Deception in the UK] so we paid for the whole thing ourselves – we had no posters, no advertising, no push for it. It just shows that bands don't need that whole record label hype that the press believe all bands do."
In all honesty Justine Frischmann, Donna Matthews, Annie Holland and Justin Welch didn't really have to chase the press that saw them grace the front cover of Melody Maker soon after their very first single, Stutter, was released in late '93. Frischmann was an original member of Suede, had gone out with Suede's Brett Anderson and was/is seeing Blur frontman Damon Albarn. Matthews is reportedly seeing that 18 year 'young' boy from Menswear, another group in a long line of New Wave Of New Wave popsters vying for centre spreads in teeny mags.
But it goes without saying that they are all terminally cute, sexua-lyrically forthright and downright seductive. I put the grrrl band thing to Matthews straight up, obviously expecting a roll of the eyes.
"Well yeah, it's constantly the old 'what's it like being a girl in a band' thing, which I reckon is the same as a boy being in a band. It really is a US constant, in Britain you don't really get asked that [insert US hyperdramatist male voice here] 'y'know, that riot grrrl thing, sorta girls in rock' stuff.
"In America I think it's more of a statement, whereas in Britain I don't think we're as angry about being women, I think we're quite pleased to be women and have a good time of it."
Donna Matthews is often the pouting, sparkling blue eyed and cherubic focus in the band, lead singer/guitarist Frischmann being quite happy to hide under her dark, chin length fringe. Legend has it that Frischmann saw Matthews coming up the stairs to their rehearsal room and thought "why can't we get a guitarist like that". They did.
Going to school at "a crappy comprehensive, in a place where people just get on the dole and that's it", Matthews learnt the guitar and foxed her way into concentrating on music at school. Answering an ad in Melody Maker for a guitarist in late '92 she met Frischmann, Holland and Welch – the band soon capturing the eye of a young indie label scout who is now a DJ for London's Radio One and a writer for Select, Steve Lamacq. He still does A&R for them.
With Stutter launching Elastica, and their second single Line Up going Top 20 in the UK charts, Geffen picked them up worldwide in mid '94. Their album, boasting such producers as Marc Waterman, Alan Moulder (Ride) and John Leckie (Stone Roses) is 16 songs long in 45 minutes short.
At 23, Matthews is secure in her role firstly as a musician – anyone seeing their BDO performance can vouch for that – and secondly having a mint set-up amongst touring schedules and sharing 'keysmoneyandfags' with friends.
"I definitely know that whatever happens, whether we are successful or not, I'll always be doing music and being a musician. [laughs] But I'm also a lazy musician, I love time off and partying with my mates and having a good time. It's half-half really. It doesn't matter where I am or what I'm doing, it feels the same as what I was doing five or six years ago when I wasn't 'successful' because I'm still going out partying and playing music. Now I just get paid for it."
And just as Frischmann has been known to say "Debbie Harry was the first girl I fell in love with," so too is a new Brit-gen gawking at Frischmann and Matthews' slick use of harmonics, guitar bleeps and on-stage demeanour. "Sexy is an attitude rather than what you look like," says Matthews. "Our music has attitude, what people see as sexy is us not standing for any shit and saying whatever we want.
"I like it when people say 'I like your guitar lines, I really want to play something like that'. 'Cos I remember looking at Kim Deal and her basslines for the Pixies, then she went off to form her own band and it made me think 'yeah, I can do that'. So I s'pose people can look at me and think 'well, if Donna can do it, so can I', whether they be boys or girls."