With Melbourne's Spiderbait drawing huge crowds of punters all weekend, there was no doubt the evening's entertainment was to multiply with the deft wizardry of Cinema Prague.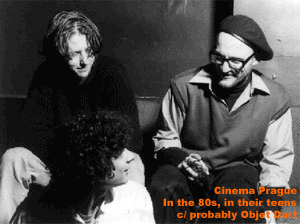 Firing up immediately with Clean Sheets and Hangman, the trio who are still the most indefinable group I have ever seen bent the crowd whatever way they wanted – from the shmoozy Dawn through to the epic Say It's The Day.
'Rabbi' Rex Horan conducted the sermon while Messrs Lowe and Georgie K demonstrated well on seven years of playing together, a little jazz training and an early diet of machine-tight thrash. Cinema Prague are undeniably the sum total of their parts.
Their reworking of Paranoid Lloyd on this eve again showed how three restless minds, even at the peak of their craft, can still get bored and feel the need to experiment constantly with their proven musical crowd-quakers.
A near-capacity crew watched Spiderbait set up, tune up and consequently blow the lid off the joint. Alternating between ragga and punk, two bands never complimented each other so well.
By the time their infamous Goodies cover Run gushed forth, half of the crowd had spent time in the air or on someone's shoulders. Punters surged and sang along to the visitor's back catalogue like they were local legendary residents. With their second album only just released it just goes to show that great music is getting to the right people.
Drummer and vocalist Kram was a card, but the delight of hearing a female voice amongst the mayhem far exceeded the punkish orientation of his lead. Janet grappled the speed of Yeah O Yeah, as well as the 'real singing' of Alex The Seal – sorry, The Go-Go's Our Lips Are Sealed – with amazing aplomb.
With everyone singing along with the final songs I dare say that Spiderbait are immensely popular in Perth, and rightfully so. This is one brilliant band, in fact line-up, that I must experience again.
Adam Connors