www designs and sites
I began building websites while editor of Grok Magazine in 1995. I code pages myself to maximise the uses of new technology and minimise the glitches found in HTML and editors.

NUSe | RTR FM | Grok Magazine | sugarchild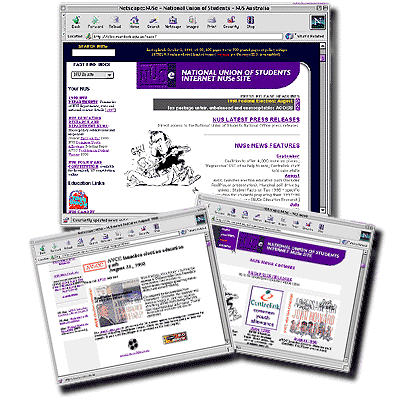 - NUSe : the National Union of Students : NUS Australia
Original site address is http://cleo.murdoch.edu.au/nuse. This could change without notice. If it does try the address of the new site at http://www.nus.asn.au.

- RTR FM : Arts Radio Ltd Perth WA site : rtrfm.com.au
Official web site of RTR FM 92.1 (http://rtrfm.com.au) with RealAudio broadcast ability, guestbook facilities and password protected areas for RTR FM members. Online programme guide with links to specialist sites is also on hand. Actual Perth WA time and current programme broadcasting java notification.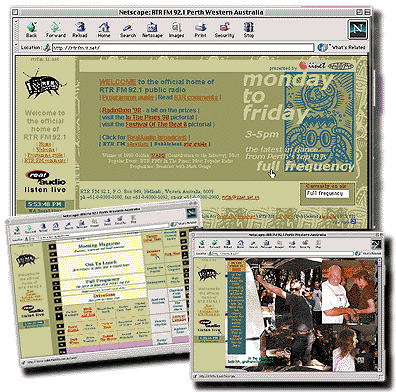 - Curtin Student Guild : student magazine website : Grok Magazine
As editor of Grok I instigated and designed the Grok Magazine website with help from a fellow Curtin student, Martin Grant. About 10-12 editions of Grok Magazine went online (http://www.curtin.edu.au/curtin/guild/grok) while I was editor of the Curtin University newspaper 1995/1996.


- Sugarchild : music website
Perth band Sugarchild launched their debut EP in September 1998. As well as their internet site (http://sugarchild.iinet.net.au) I also produced their CD cover art and launch/sales posters.